BABOU OCEAN SIDE'S SPIRIT
The adventure started in august 2000 with the will to offer different services, unforgettable dive experiences, quality training, amazing excursions and hikes, tailored services and hospitality.
We offer a dive centre, camping accommodation, dive excursions and boat trips within the same structure.
"An activity for everyone" could be Babou Ocean Side's slogan. We are here to satisfy all your expectations.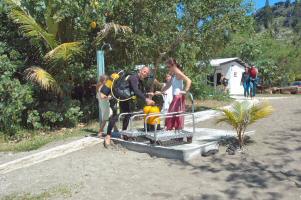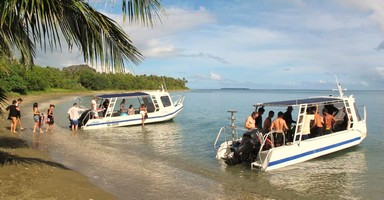 BABOU COTE OCÉAN 'S FACILITIES
In the heart of Koulnoué's tribe in Hienghene, in New Caledonia's northern province, we offer complete and modern facilities.
Our center has spacious and comfortable facilities located on a large shaded property with a beach next to the lagoon (reception, locker room, toilets, boats departure, inflation station and equipment room).
Our boats are less than 50 meters away from the equipment storage room and they are specially designed for the activities we offer.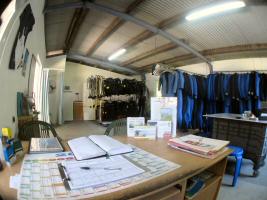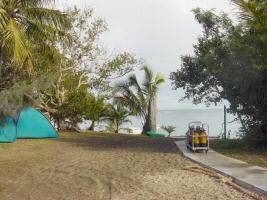 Managed by Regine and Thierry Baboulenne, Babou Côté Océan is an accredited professional organization:
- DJS and merchant marine for dive and dive excursions.

- Merchant Marine for transport and sea boat rides.
We are members and/or partners of:
- New Caledonia's dive association.

- National association of dive instructors.

- Longitude 181 Nature (marine life protection and fair sharing of resources).

- Union for water and touristy sports.

- AQUALUNG- scuba diving equipment brand.

- BERSUB- underwater lighting equipment brand.

- SUZUKI- our boats motors' brand.
WHY BABOU COTE OCEAN ?
· Spacious and comfortable facilities .
· Activities in the heart of Hienghene's protected marine district.
· An activity for each family member.
· Our camping on the premises.
· Main accommodation sites are 5 to 10 minutes away.
· More than 10 dive sites in a 20 met. deep zone (ideal from level 1).
· An underwater path and a botanical track on the islet close by.
· Boat rides to explore the coast, river and mangrove.
· Dive instructors and professional pilots (National Coaching Education Certificate and boat driving license).
· Excellent quality of the equipment used.
---
This page's keywords:
Hike, snorkeling track, boat, new, caledonia, koulnoue, tribe, northern province, noumea, poindimie, touho, islands, loyalties, poum, lifou, mare, ouvea, light, hotel, village, hotel village, accommodation, bed and breakfast, hen, breeder reactor, dive, diving, dive, diving, babou, Thierry, baoulenne, swimming pool, bed and breakfast, dive, dives, sub, sub aquatic, aquatic, center, club, school, anmp, Northern Province, Hienghène, Poindimié, babou, dive, dive, dives, camping, leisure center, boat ride, sport, sports, leisure, nautical, leisure, leisures, holidays, training, instructor, sea guide, anmp, padi, cedip, ffessm, ssi, boat.