CAMPING
LOCATION
After driving off the territorial road (the center is indicated with road signs), turn at Koulnoue's tribe side road.

Babou Côté Ocean is located 300 meters on the right next to the seafront after the small church and the community house.
The large property is perfectly shaded and is situated next to a bay and a beautiful beach where you can go for a swim.
At the foot of the black rocks and a step away from the Lindéralique lagoon 's mouth, the splendid setting will mesmerize you and you will have an unforgettable stay divided between leisure and the various activities we offer.
Coconut trees, bouraos, paradise flower trees, gaiacs and filaos …provide enough shade to set up your camping. Koulnoue's tribe is quiet and its people very warm and hospitable.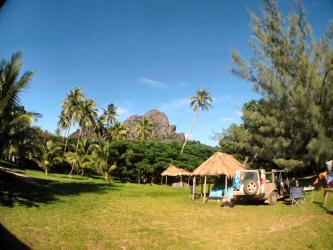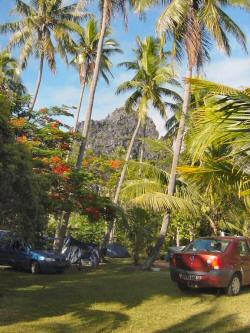 You can set up your tent on the beach next to the sea or not far from a hut. You can make a fire for your meat or simply have a picnic in the shade.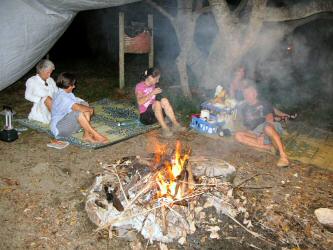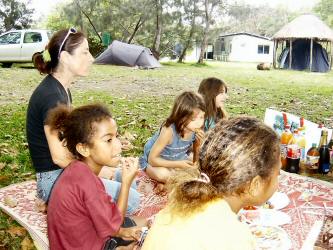 1st option:
Camping space per person and per night (camping equipment not provided)
2d option, on booking:
Camping space per person and per night
Tent set up for you upon your arrival
We also hire mattresses, sleeping bags and lamps.
AMENITIES
· Toilets/showers: 2 toilets and 2 showers (cold water).
· Water points outside (three taps on the property) and 1 shower outside (on the beach).
· 6000 liters water tank with suppressor.
· Electric switches.
· Community fridge and freezer available.
· We lend grills for barbecues.
SAFETY
· Clinic, 8 kilometers away: 47 75 00.
· Firefighters, 8 kilometers away: 42 59 18.
· Gendarmerie, 8 kilometers away: 47 89 80.
First aid equipment on premises (dive center: first aid kit and oxygen)